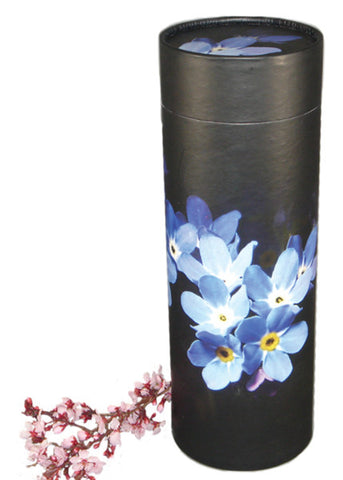 Forget Me Not Scattering Tube
"Forget Me Not Scattering Tube"  
Dimensions:      12" x 5" diameter
Capacity:           200 Cubic Inches
Also available:   Mini-Scattering Tube
Engravable:       No
This Collection of Scattering Tubes is designed and engineered to simplify the scattering process. The tubes are durable, dignified and simple to use. Each features a convenient removable lid and an industry-first, perforated "push in" tab that opens easily prior to scattering. They contain no metal or plastic components and can be recycled or composted after use. Suitable for "in-cabin" airline transportation.
If multiple family members or loved ones want to participate in scattering, even in multiple locations, mini-size scattering tubes allow for that option.
---
We Also Recommend
---